We're so glad you found us! We're working hard to build Garden Thymes into the best place there is for reliable information and fun and frugal projects. Not only will you see weekly and monthly tips from our arboretum, but we'll also be sharing recipes for harvest ready fruits and vegetables, reviewing books on all sorts of topics (including homesteading, nature photography and more), posting family friendly themed nature activities and doing everything we can to help you make sure your garden is in tip top shape! If you live in North Carolina, know that we'll have extra tips specific to the Mountain, Piedmont and Coastal regions.
I'm proud to say that if you should have a question, our staff includes
a great group of folks with decades worth of experience in several horticulture disciplines
. We're passionate not only about gardening and education, but also about living responsibly and making a tangible difference in the community. If you have an idea, a compliment, or even a criticism, don't hesitate to contact us. We'd love to hear from you!
Are you a return visitor? Please scroll down to continue reading our latest post.
Shawn
is conducting trials in our kitchen garden with grafted tomatoes. Hopeful to find something that can withstand an onslaught of root nematodes. Interspersed those with marigolds. Fingers crossed. Will keep you updated.
Utilizing more of our property this year, another plot has been dedicated to
Plant-A-Row
.
Misty
was sweet enough to till an extra bed that was sown with tomatillos and ornamental gourds. If all goes well, we should have a tremendous harvest this year to share with the needy in our community.
As for our personal gardens, here is a glimpse into mine at the house. Romaine lettuces *points down*. In each corner of the photo you can see the edge of our Salad Bowl and few little curls of Jubilee watermelons that need to be planted. We are doing a much better job of staggering our harvest this year and better at managing what we do grow. We cut back on some of the crops...for example, rather than plant seven lettuces as we did last year, we are only doing four. We're using large burlap sacks for potatoes (Red Norland, Yukon Gold and Beauregard Sweet) to save space and what doesn't fit in the five existing raised beds or sacks lives in large pots.
(
Read more...
Collapse
)
First off, very exciting...Extension agent extraordinaire and resident expert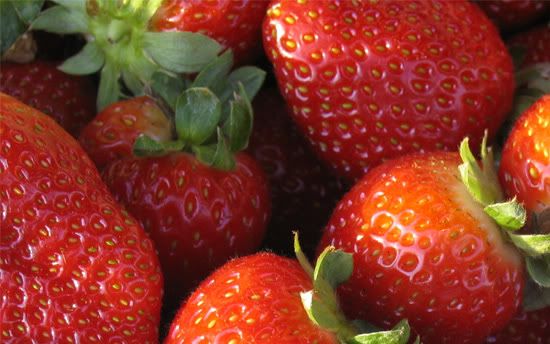 Boneless, skinless chicken breasts
Mesclun or mix of other baby harvested lettuces
Sliced strawberries
Navel orange segments
Sliced red onion
Strawberry balsamic vinaigrette (recipe below)
Sprinkle the chicken evenly with salt and pepper, and grill, covered with grill lid, over medium-high heat, turning once. Grill until done (internal temperature should be 165 °F). Let stand 10 minutes, and cut into 1/2-inch slices. Juices should run clear when cut. To assemble salad, fill individual serving dishes with lettuce, top with grilled chicken, sliced strawberries, orange segments, and sliced onion. Serve with Strawberry Balsamic Vinaigrette.
1 1/2 cups homemade or purchased strawberry preserves (see note)
1/4 cup white balsamic vinegar (see note)
1/4 cup olive oil
1/4 tsp crushed rosemary
1/4 tsp salt
1/4 tsp pepper
Strawberry fruit spread may be substituted for preserves if you wish to cut back on sugar. Also, white balsamic retains the color of the strawberries, but dark balsamic can just as easily be used. Balsamic is found with the other vinegars, often on the salad dressing aisle.
Pulse all vinaigrette ingredients in a blender 5 or 6 times or until smooth. Makes about 2 cups.
Each day I harvest from our June-bearing strawberries (a misnomer in this part of North Carolina). The birds it seems have found the plot too....I'll often find nibbled fruits left discarded.
register for our Cape Fear Botanical Gardens trip
. Join us as we explore the over 2,000 ornamental plants on this beautiful 78 acre property. We'll meander through the specialty display gardens including those of the daylilies and hostas. Space is limited, so contact us today.
....to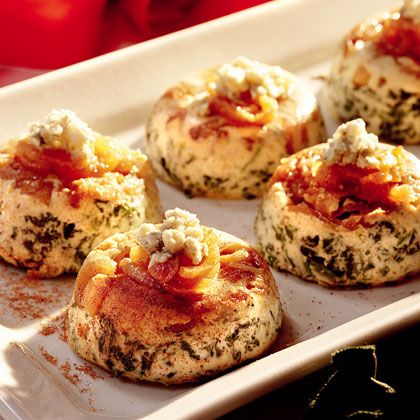 Credit: Charles Walton
1/2 cup fresh spinach, chopped
1 TBSP butter
1 TBSP olive oil
2 large onions, thinly sliced
2 tsp brown sugar
5 ounces crumbled Gorgonzola cheese (about 2/3 cup)
3 large eggs
1 1/2 cups half-and-half
1/4 tsp salt
1/4 tsp ground nutmeg
1/8 tsp pepper
Garnish: crumbled Gorgonzola cheese
Melt butter in a large skillet over medium heat; add oil and onion, and sauté 5 minutes. Stir in sugar, and cook, stirring occasionally, 20 more minutes or until onion is caramel colored. Reserve 1/4 cup onion; spoon remaining onion mixture evenly into 6 lightly greased 6-ounce custard cups; sprinkle with cheese. Whisk together eggs and next 4 ingredients until blended. Stir in spinach. Spoon evenly over cheese, and place custard cups in a 13- x 9-inch pan. Add hot water to pan to a depth of 1 inch. Bake at 350° for 30 to 40 minutes or until almost set. Remove cups from pan. Let stand 10 minutes; unmold and top with reserved onion. Garnish, if desired.
This was prize winning recipe in 1999 and is perfect to serve alongside steak, as a light lunch or vegetarian entrée. For those of us with spinach in our gardens, it's a nice alternative to using it in a salad or stovetop preaparation. If you'd prefer, you can also make this in a lightly greased 9-inch baking dish.
the plant sale
. Beyond that is a wooded area with the arboretum's nature paths. Out of sight of the camera, also on that side is the arboretum mobile unit with a xeriscaped area, greenhouse, massive cisterns, etc.
The paths in this area, if you were looking from an aerial view, would form the shape of a dogwood bloom (our state tree), with heart-shaped petal quadrants. It has a gazebo in the center of the bloom. I'm nearest the pass along garden. Directly to the right of me is the beginning of our ethnobotanical garden. If I were to swivel around, you would see our formal knot garden that was just installed. Oh, and the allée. There are a bunch of other places on the property too--kitchen garden, orchard, raised beds, lath, and so on--that maybe I can get snaps of another day.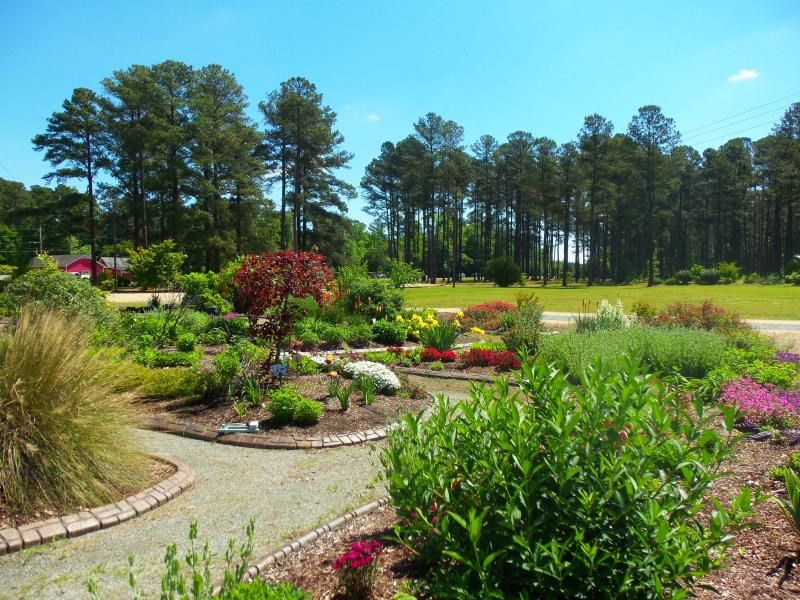 It dawned on me the other day that I hadn't ever shown ya'll a picture of the arboretum grounds. The whole property is a modest size--15 acres?--and it's in relative infancy. If memory serves me correctly, I think they broke ground on the design about eight or nine years ago. Anyway, to give you some perspective, I'm standing and looking out toward what they call the 'Great Lawn', which is where we had the vendors and music acts for
From time to time, the Garden Thymes team will review books that we think may be of interest to readers. These might include subjects like farm-to-table cooking, homesteading, nature photography, specialty gardening, etc.


______________________________________



Full title of the book is 'Vertical Gardening: Grow Up, Not Out, for More Vegetables and Flowers in Much Less Space'.

After reading this, my husband and I were both inspired to consider changes to our garden. We currently garden in square foot plots--which we love--plus large containers for some of our dwarf fruits. Author and gardener Derek Fell's approach focuses on the 'floor space' needed for most crops, with heavy emphasis on climbing plants that were less prone to insects, diseases, and animal pests. He tested thousands of space-saving varieties of vegetables, flowers, and fruits and shares his recommendations in the book. His grow-up, grow-down system also shows which ground-level plants make good companions underneath and alongside climbing plants. Best of all, many of Fell's greatest climbers and mutually beneficial plants are available in seed packets in every local garden center.

With a mix of familiar DIY and commercially available string supports, trellises, pergolas, raised beds, skyscraper gardens, and topsy-turvy planters, the vertical garden system reduces work, increases yields, makes harvesting easier, and can be practiced in small spaces where yards may be at a premium. The book features 100 color photos of the author's own vertical methods and showcases perennials, shrubs, vegetables, annuals, and fruit.

A very good introduction to the method. Seed starting and compost-making is skimmed over in general terms. Does not provide detailed plans on structures. Grade: A-