We're so glad you found us! We're working hard to build Garden Thymes into the best place there is for reliable information and fun and frugal projects. Not only will you see weekly and monthly tips from our arboretum, but we'll also be sharing recipes for harvest ready fruits and vegetables, reviewing books on all sorts of topics (including homesteading, nature photography and more), posting family friendly themed nature activities and doing everything we can to help you make sure your garden is in tip top shape! If you live in North Carolina, know that we'll have extra tips specific to the Mountain, Piedmont and Coastal regions.
I'm proud to say that if you should have a question, our staff includes
a great group of folks with decades worth of experience in several horticulture disciplines
. We're passionate not only about gardening and education, but also about living responsibly and making a tangible difference in the community. If you have an idea, a compliment, or even a criticism, don't hesitate to contact us. We'd love to hear from you!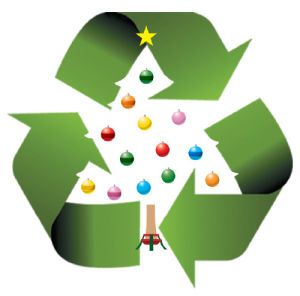 *
Mulch It
--Mulching is probably the easiest and most obvious option. Use or borrow a shredder and remove the boughs to process. The mulch can act as a light blanket and help to buffer marginally hardy plants against frigid winter winds while doing its part to regulate soil temperatures and conserve moisture. As a bonus, mulch will be a boon to more tender, emerging blooms come early Spring.
*
Provide a Bird Habitat
--If you have room in your back yard and aren't prohibited by community restrictions, spent trees make an excellent shelter for feathered visitors. Be sure to remove all tinsel, flocking, hooks and ornaments and tie the tree securely with stakes or twine, especially if it is being kept upright. Within a year's time the branches will become brittle and will be easier to break and process.
*
Find an Animal Enrichment Program
--Some animal sanctuaries and preserves will sometimes accept trees for their program. Rescued or captive animals have a much more predictable environment than they would normally have in the wild. As a result, they often need stimulus to help them engage in active play and to help recreate natural situations that will expend pent up energy.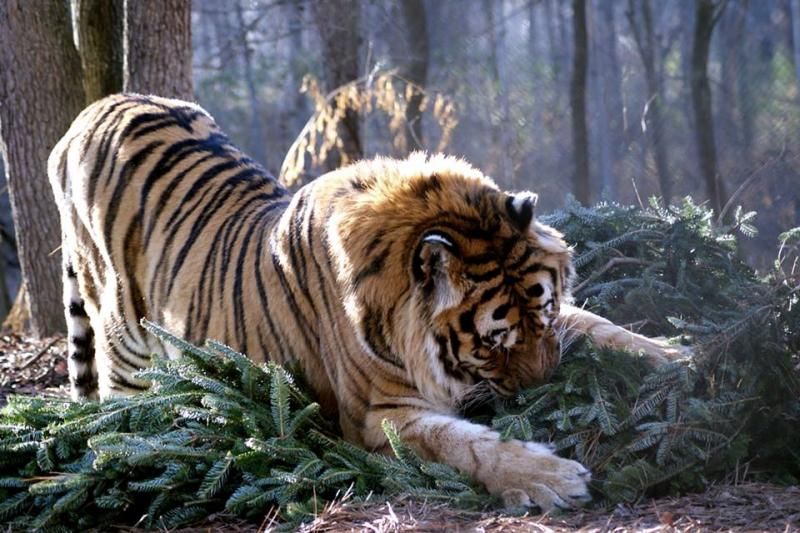 Credit: Carolina Tiger Rescue Facebook
*
Create a Fish Haven
-- As the mobsters might say, "Let 'em sleep with the fishes." In ponds and other deeper waters, sunken trees can become a refuge for fish and other aquatic dwellers. It is critically important that everything be removed before submersion--including decorations and tinsel. It is also imperative that the tree not be flocked or treated in any way as these chemicals can be very harmful to the animals that make their homes there.
*
Help with Erosion
--Some communities are now using trees to help with lake and river stabilization and river delta sediment management. For shoreline areas ravaged by hurricanes, trees can be invaluable. Their trunks and branches create natural underwater barriers to lessen pockets of sand that might otherwise be washed away during rebuilding of dunes and beaches. Check with your state's Department of Natural Resources to see if they need donations.
*
Donate It
--Lastly, local programs with a green initiative often accept donated trees at the end of the season and turn them into mulch to soften nearby park and hiking paths. Call your municipalities administrative office to see if this is an option.
As always, when recycling your holiday tree, please follow all local ordinances and guidelines.
Opting for a real holiday tree lends a seasonal scent to homes that an artificial tree simply can't duplicate. Unfortunately, that same tree can't be boxed until its return the following year. Many of our neighbors will begin to drag their wilting trees to the curb this week, but if you're interested in giving your once festive friend a final resting place other than the landfill, read on.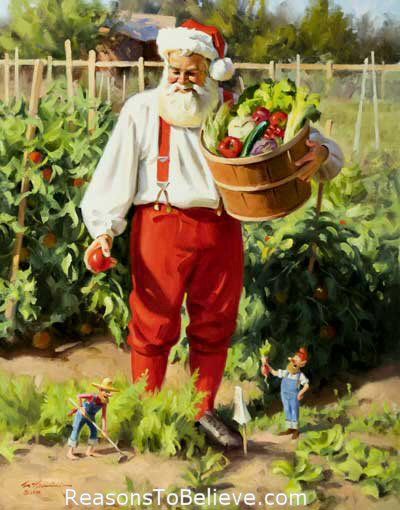 'Twas the night before Christmas and all through the yard
the branches were bare and the ground frozen hard;
The roses were dormant and mulched all around
to protect them from damage if frost heaves the ground.
The perennials were nestled all snug in their beds
while visions of 5-10-5 danced in their heads.
The new-planted shrubs, had been soaked by the hose
to settle their roots for the long winter's doze;
And out on the lawn, the new fallen snow
protected the roots of the grasses below.
When what to my wondering eyes should appear
but a truck full of gifts of gardening gear.
Saint Nick was the driver - the jolly old elf
and he winked as he said, "I'm a gardener myself.
I've brought wilt-pruf, rootone, and gibberellin, too.
Please try them and see what they do.
To start new plants, a propagating kit.
Sparkling new shears, for the old apple tree.
To seed your new lawn, I've a patented sower;
in case it should grow, here's a new power mower.
For seed-planting days, I've a trowel and a dibble,
and a roll of wire mesh if the rabbits should nibble.
For the feminine gardener, some gadgets she loves;
plant stakes, a sprinkler, and waterproof gloves;
A chemical agent for the compost pit,
and for pH detecting, a soil testing kit.
With these colorful flagstones, lay a new garden path,
for the kids to enjoy, and bird feeder and bath.
And last but not least, some well-rotted manure.
A green Christmas year round, these gifts will ensure."
Then jolly Saint Nick, having emptied his load,
started his truck and took to the road.
And I heard him exclaim through the motor's loud hum
"Merry Christmas to all, and to all a green thumb!"
Warmest holiday wishes from everyone here at the arboretum! This poem was written by horticulturist Richard Jauron and first appeared at Iowa State University's Cooperative Extenstion website. I'd secretly like to think that mister jelly-belly himself would be gathering rain water run off, composting his kitchen scraps and enjoying preserved garden goodness that he and Mrs. Claus put up during the growing season.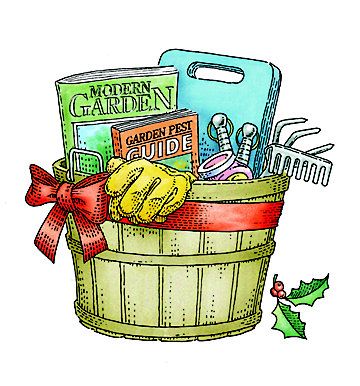 Christmas Ornament (gardening related)
Digital Soil pH Meter
Gardening Magazine Subscription
Garden Tools, Small
Gift Certificate to Nursery or Seed Catalog
Hand Lotion
Herb Scissors
Mosquito Repellent Bracelets/Stickers
Outdoor Timer
Peat Pots
Peat Pot Maker
Plant Labels
Plant Ties or Tape
Pocket Sized Field Guide (state wildflowers, birds)
Rain Gauge
Rooting Hormone
Seed Bombs
Seed Packets
Seed Starting Pellets
Single Stem Supports
Special Soap (poison ivy, lye)
Soil Block
Soil Thermometer
Styptic Pencil
Sunscreen
Tool Sharpener
Twine
Water Meter
Wind Chimes
Work Gloves
Need last minute stocking stuffer gift ideas for your gardening friends? Check out our list below. Are there any others you would add?
Corkscrew Willow
and
Henry Lauder's Walking Stick
are two trees on the property that have very contorted branches, which help to add structural winter interest in the garden. We ended up cutting a few snippets of the willow to use at the top of the tree.
This is Misty holding one of the completed ornaments.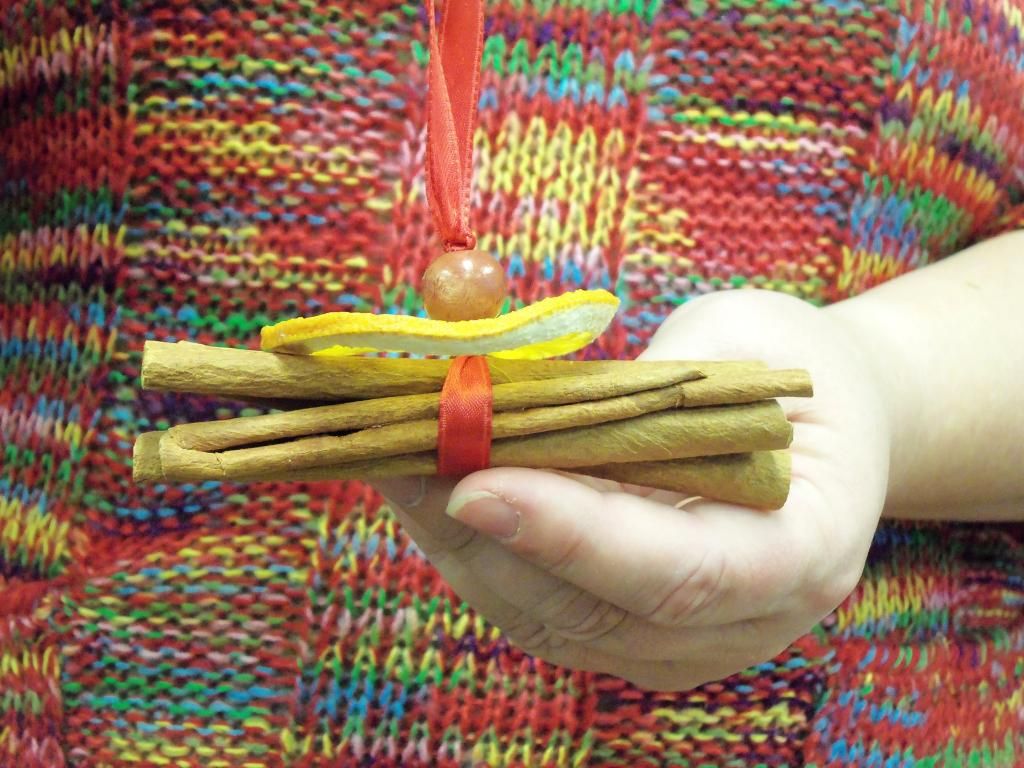 (
Read more...
Collapse
)
....the girls and I gathered natural greenery and embellishments from the arboretum property. We walked around and scouted seed pods, faded blooms, herbs, grasses, berries and leaves that could be dried and used.
PAR
. PAR is short for Plant-A-Row for the Hungry, which is a national organization that helps to provide food for the less fortunate in local communities via garden harvests. Well, this year my group was lucky enough to be able to participate in the
tenth annual Festival of Trees
. It's held at a large local medical plaza. The decorated trees stay on display a few weeks before being gifted to a family that would've otherwise gone without one for the holidays.
Our tree was sponsored by Deacon Jones Auto Group and the gals, myself and Alex from the arboretum all helped to decorate it. There are dozens and dozens of themed trees in the plaza, all done by different organizations and it is open to the public. During the Christmas season, choral groups from all over will give performances around the trees.
Anyway, with the exception of some store-bought bulbs, most of the elements we used on our tree were natural--eucalyptus, tufts of cotton, dried citrus slices, bundles of cinnamon secured with ribbon, hydrangea blooms, gilded pinecones and gourds, even things like cattails and plumes of pampas grass. The tree skirt was one of my favorite parts. Burlap sacks taken apart, cut and then stitched together with a golden trim. Will share more pictures later, but this *points down* was snapped as we were finishing and one of the volunteers was putting last minute touches on the presents beneath.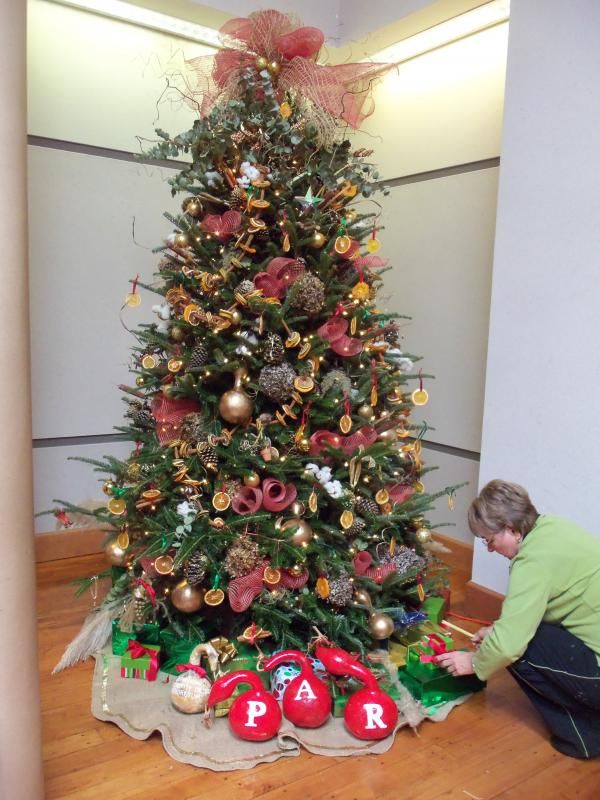 For those new to our blog, the arboretum's orchard and ten vegetable gardens are dedicated to
No, in all seriousness, this tiny, wedge-shaped insect is, as I've said, a hopper. This kind looks remarkably like a very small scrap of leaf, complete with veining. If he feels he is undetected, he will amble along slowly, so as not to call attention to himself. Incidentally, he can walk forward, backward or sideways like a crab. Other types of hoppers may be white, yellow, brown, mottled or even striped.
Hoppers, in essence, are a collective name applied to any species from the family Cicadellidae. Hoppers, much like aphids, pierce and suck plant sap from grass, trees and shrubs. Unlike aphids, however, these creatures are skittish and very agile. As a matter of fact, one of the coolest things about the nymphs (young hoppers) are that some of them
are recognized to have gears--actual gears--as part of their body that help propel them.
The same sort of mechanism like you might find in, say, a clock or car steering system. Neat, huh?
Now, let's get to the not so neat stuff. The various hoppers have a bunch of host plants. By that I mean plants which they like to feed on. A single potato leafhopper, for example, has over 100 plants that appeal to him. Practically a smorgasbord in the garden. Yep, he's not too discerning. Potato leafhoppers will even attack sugar maples and weigela.
The damage that results from feeding depends on the host plant itself and the specific hopper. Generally speaking, there isn't a discernible impact on the plants when hoppers are in small numbers, at least not in a way that most homeowners would notice because it often isn't that bad. A few species of hoppers, though, can transmit pathogens (more on that in a little bit).
(
Read more...
Collapse
)
Continuing our pest and disease series, I thought I'd introduce you to the green planthopper. Planthopper, this is everyone. *makes wide, sweeping gesture with hand* Everyone, this is planthopper.