We're so glad you found us! We're working hard to build Garden Thymes into the best place there is for reliable information and fun and frugal projects. Not only will you see weekly and monthly tips from our arboretum, but we'll also be sharing recipes for harvest ready fruits and vegetables, reviewing books on all sorts of topics (including homesteading, nature photography and more), posting family friendly themed nature activities and doing everything we can to help you make sure your garden is in tip top shape! If you live in North Carolina, know that we'll have extra tips specific to the Mountain, Piedmont and Coastal regions.
I'm proud to say that if you should have a question, our staff includes
a great group of folks with decades worth of experience in several horticulture disciplines
. We're passionate not only about gardening and education, but also about living responsibly and making a tangible difference in the community. If you have an idea, a compliment, or even a criticism, don't hesitate to contact us. We'd love to hear from you!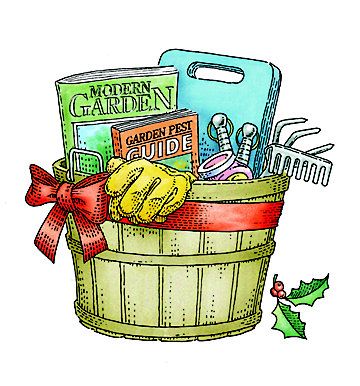 Christmas Ornament (gardening related)
Digital Soil pH Meter
Gardening Magazine Subscription
Garden Tools, Small
Gift Certificate to Nursery or Seed Catalog
Hand Lotion
Herb Scissors
Mosquito Repellent Bracelets/Stickers
Outdoor Timer
Peat Pots
Peat Pot Maker
Plant Labels
Plant Ties or Tape
Pocket Sized Field Guide (state wildflowers, birds)
Rain Gauge
Rooting Hormone
Seed Bombs
Seed Packets
Seed Starting Pellets
Single Stem Supports
Special Soap (poison ivy, lye)
Soil Block
Soil Thermometer
Styptic Pencil
Sunscreen
Tool Sharpener
Twine
Water Meter
Wind Chimes
Work Gloves
Need last minute stocking stuffer gift ideas for your gardening friends? Check out our list below. Are there any others you would add?
Corkscrew Willow
and
Henry Lauder's Walking Stick
are two trees on the property that have very contorted branches, which help to add structural winter interest in the garden. We ended up cutting a few snippets of the willow to use at the top of the tree.
This is Misty holding one of the completed ornaments.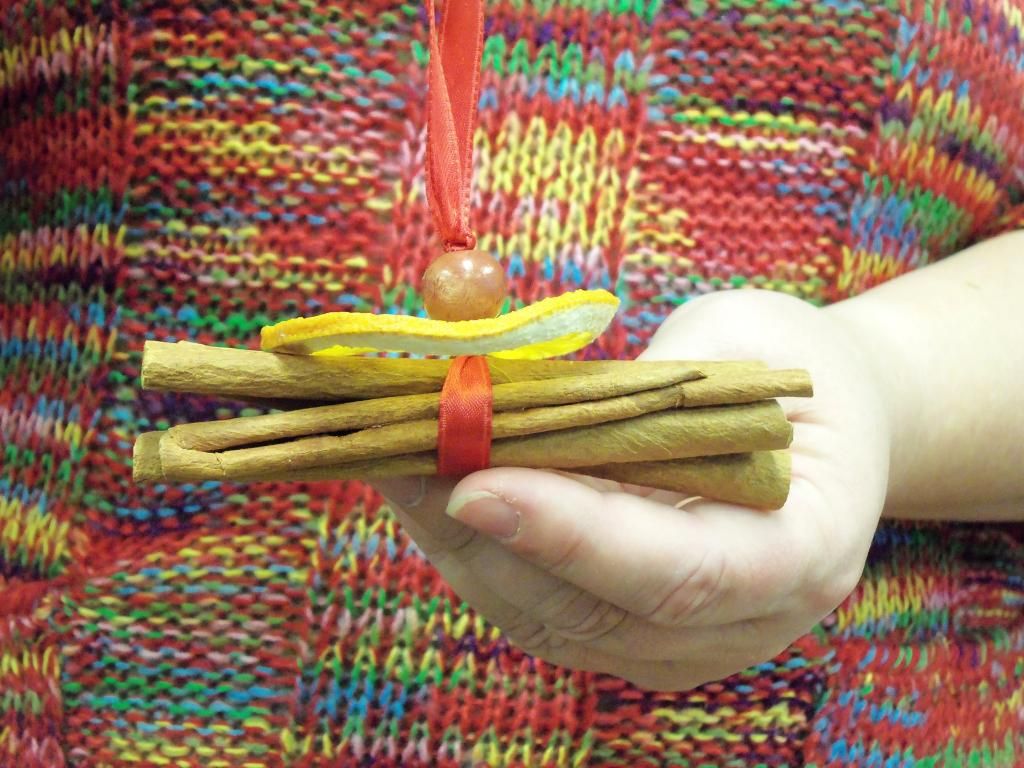 (
Read more...
Collapse
)
....the girls and I gathered natural greenery and embellishments from the arboretum property. We walked around and scouted seed pods, faded blooms, herbs, grasses, berries and leaves that could be dried and used.
PAR
. PAR is short for Plant-A-Row for the Hungry, which is a national organization that helps to provide food for the less fortunate in local communities via garden harvests. Well, this year my group was lucky enough to be able to participate in the
tenth annual Festival of Trees
. It's held at a large local medical plaza. The decorated trees stay on display a few weeks before being gifted to a family that would've otherwise gone without one for the holidays.
Our tree was sponsored by Deacon Jones Auto Group and the gals, myself and Alex from the arboretum all helped to decorate it. There are dozens and dozens of themed trees in the plaza, all done by different organizations and it is open to the public. During the Christmas season, choral groups from all over will give performances around the trees.
Anyway, with the exception of some store-bought bulbs, most of the elements we used on our tree were natural--eucalyptus, tufts of cotton, dried citrus slices, bundles of cinnamon secured with ribbon, hydrangea blooms, gilded pinecones and gourds, even things like cattails and plumes of pampas grass. The tree skirt was one of my favorite parts. Burlap sacks taken apart, cut and then stitched together with a golden trim. Will share more pictures later, but this *points down* was snapped as we were finishing and one of the volunteers was putting last minute touches on the presents beneath.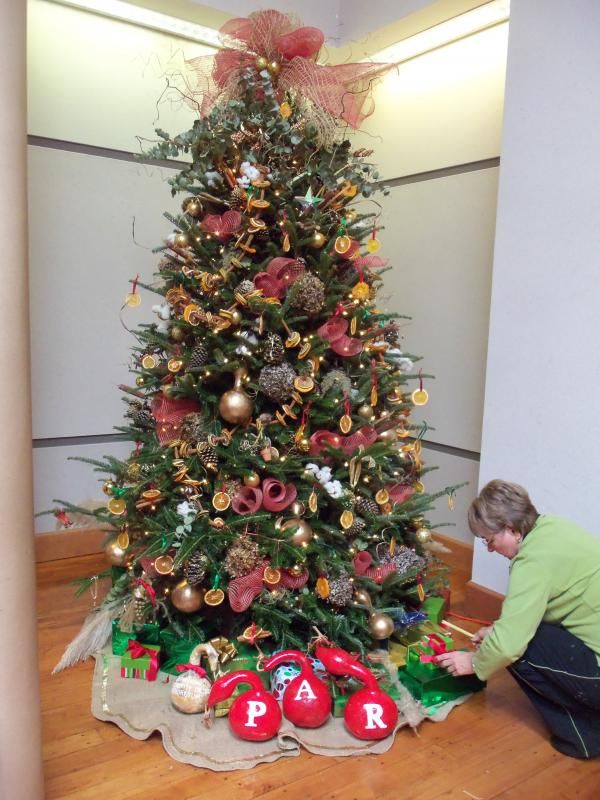 For those new to our blog, the arboretum's orchard and ten vegetable gardens are dedicated to
No, in all seriousness, this tiny, wedge-shaped insect is, as I've said, a hopper. This kind looks remarkably like a very small scrap of leaf, complete with veining. If he feels he is undetected, he will amble along slowly, so as not to call attention to himself. Incidentally, he can walk forward, backward or sideways like a crab. Other types of hoppers may be white, yellow, brown, mottled or even striped.
Hoppers, in essence, are a collective name applied to any species from the family Cicadellidae. Hoppers, much like aphids, pierce and suck plant sap from grass, trees and shrubs. Unlike aphids, however, these creatures are skittish and very agile. As a matter of fact, one of the coolest things about the nymphs (young hoppers) are that some of them
are recognized to have gears--actual gears--as part of their body that help propel them.
The same sort of mechanism like you might find in, say, a clock or car steering system. Neat, huh?
Now, let's get to the not so neat stuff. The various hoppers have a bunch of host plants. By that I mean plants which they like to feed on. A single potato leafhopper, for example, has over 100 plants that appeal to him. Practically a smorgasbord in the garden. Yep, he's not too discerning. Potato leafhoppers will even attack sugar maples and weigela.
The damage that results from feeding depends on the host plant itself and the specific hopper. Generally speaking, there isn't a discernible impact on the plants when hoppers are in small numbers, at least not in a way that most homeowners would notice because it often isn't that bad. A few species of hoppers, though, can transmit pathogens (more on that in a little bit).
(
Read more...
Collapse
)
Continuing our pest and disease series, I thought I'd introduce you to the green planthopper. Planthopper, this is everyone. *makes wide, sweeping gesture with hand* Everyone, this is planthopper.
What is weather like where you're at? A blast of arctic air came down last night and this area saw the first sleet/flurries of the season. Word is we're slated for the coldest winter in more than a decade. Has everyone put their garden beds 'to sleep'? Do you do cover crops? Are you still winterizing? Anyone growing in cold frames this year? If so, what are you growing?
quick, fun quiz from BH & G
. It narrows down your personal garden style based on nine, easy questions.
Predictably, mine is formal. We're hopeful to install of an entirely white garden at our home. The plan was inspired by the beautiful
White Gardens at Sissinghurst Castle in Kent, England
.
__________________________________________________
It sounds to us like you lean toward formal style, with symmetrical plantings, clipped hedges, and a prim look. Formal gardens often feature classical accents, such as sundials, urns, and pillars. If you're up for it, feel free to go wild with topiary, too -- it fits well in most formal gardens.
__________________________________________________
Tell us, what's your personal garden style?
We've been busy bees lately at the arboretum. In addition to gleaning sweet potatoes, hosting our first annual seed swap and harvesting from our garden and orchard on the grounds, we are also preparing to participate in a local charitable event called the Festival of Trees. Since I don't have a ton of time this morning, I thought I'd share this
This particular AWM was spotted after a morning rain last week. Chances are if you spy one of these in your flower beds, you'll see others nearby. Just take the time to look around carefully. Today, this lil' guy had brought a whole bunch of his friends with him. Yep. They were flitting around, clustered on branches, dozens of them. It was practically a moth tail gating party...except instead of guzzling beer they were imbibing copious amounts of sweet nectar.
AWMs are native to southern Florida and Central and South America where they normally feed on Paradise trees (Simarouba glauca and Simarouba amara). Some time ago, a similar tree was introduced to the US from China that caught the AWMs eye. This tree was given the ethereal sounding moniker Tree-of-Heaven (Ailanthus altissma) and the AWMs began feasting on it as they moved gradually northward. Tree-of-Heaven first thrived as an ornamental and street tree because it was so resilient, but it would soon come to be labeled as a pest plant.
Not only does Tree-of-Heaven grow rapidly, but it reproduces quickly and spreads to push out other plants. You might say it is a bit of a bully in the vegetative schoolyard. Probably the only good thing to be said for Tree-of-Heaven is that it is drought and pollution-tolerant. Indeed, Tree-of-Heaven will grow just about anywhere it has a mind to, including sites with acid mine drainage, cement dust, mercury, high ozone and other issues that would cripple most other trees.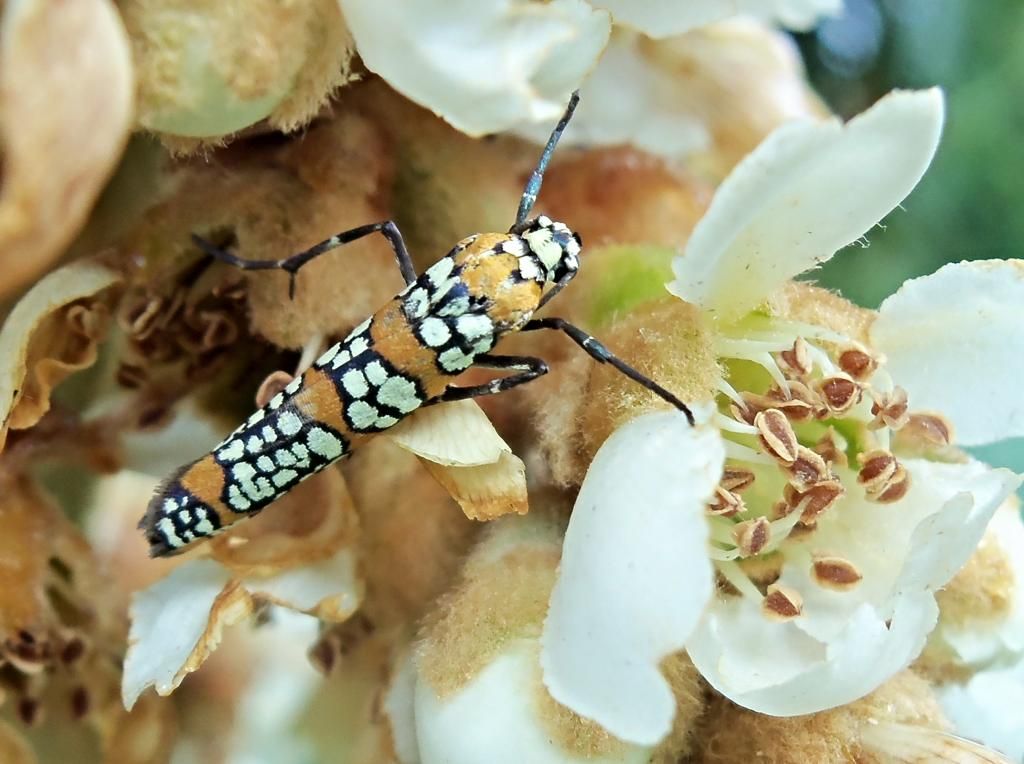 Do you have these *points down* where you live? We see them infrequently in our part of North Carolina. These striking orange, white and black insects are Ailanthus Webworms Moths and they are beneficials. (Yay!) Looks like a narrow, skinny beetle, doesn't it? Well, trust me, it is a moth. The unusual thing about these insects is that they curl their wings tightly toward their bodies when not in flight.